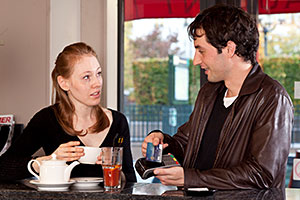 New trends in processing credit card payments are driven by technology and PCI compliance security.
Today, merchants are able to find processing solutions to meet their need or convenience. Wireless processing offers many advantages for in store and out of store payment options.
Wireless Processing Benefits:
No Need for Expensive Land Based Phone Line
Built in Thermal Receipt Printer
Low Swiped Rates
Pin Based Debit Transactions
Keep Track of Cash Option
Less Charge Back Potential on Out of Store Processing
Signature Caption Option
Store and Forward Option
Wireless Credit Card Machines Can be Plugged in To Any Existing Phone Line
There are many other applications such as pay at the table for restaurants or mobile merchants who need fast and cost effective solutions.
When selecting a wireless device, AuthoTrans will help you make the right choice.
For More Information on a Wireless Credit Card Terminal
and Wireless Merchant Account Options,
Contact Us Via Email or 1.888.488.1907