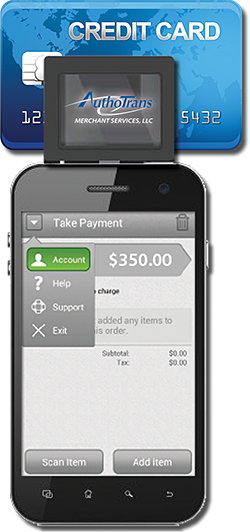 AuthoTrans Merchant Services Mobile Solutions help your business meet the growing demand of the mobile and social media revolution by offering choice, convenience and security.
When it comes to differentiating your business, mobile payment solutions can give you the edge over your competitors. We are in an age of Universal Commerce, where in-store commerce, eCommerce and mobile commerce converge to provide consumers with an integrated buying experience.
Smart devices connect merchants anywhere, anytime to the things they need and want with their mobile device
Our enabling infrastructure is open, scalable and secure to create a timely consistent experience with mobile processing.
Integrated applications deliver a seamless experience across channels and functions for mobile commerce
Our partner ecosystem is an innovative collaboration to satisfy merchants expectations.
Why AuthoTrans Mobile Plus?
Settings and Receipts
Easily set sales tax and tip settings right in the app. Send receipts to customers via email or text message with the option to have copies sent to the merchant. Sales history can be viewed and searched, along with the option to refund transactions.
Flexible and Fast
Simplify record keeping by running both cash and card transactions in a single app. Create an inventory which can be used to quickly ring up sales.
Multiple Users
Supports up to 10 active devices per account and is ideal for a business with multiple field personnel. AuthoTrans Mobile Plus allows them to swipe the card, improving Interchange qualification over manual entry.
Secure
AuthoTrans Mobile Plus supports encrypted card readers, preventing another app from accessing confidential card data on the mobile device. Additionally, all transaction information is securely stored on the Payment Gateway, eliminating the risk of payment card information being recovered from a lost or stolen device. When processing with AuthoTrans Merchant Services we will provide you with one free card reader.
Key Features
Inventory items with set prices, descriptions and photos
Data stored in cloud and shared across devices
Barcode scanner
Transaction reporting
Cash transaction tracking and receipts
Sales history in app
Sales tax and tip settings in app
Auto-send receipts to merchant
Option to print paper receipts
Encrypted card reader
For merchants that are attending trade shows to sell their products or services, there is no need to add an additional merchant account. When processing with AuthoTrans Merchant Services, our company will just add an additional terminal to your existing merchant account to handle all your on the road transactions. There are no additional statement fees for this terminal.
Supports

Note: Before you make your smart phone purchase please call our office for a complete compatible list.
For More Information on Processing Credit Cards by Smart Phone
and Establishing a Smart Phone Merchant Account,
Contact Us Via Email or 1.888.488.1907
---
Mobile Marketing Campaigns Helping Small Businesses Succeed
AuthoTrans Digital Marketing Division provides premium mobile marketing campaigns. With AuthoTrans Digital Marketing, you can now offer amazing SMS marketing campaigns for your customers at affordable prices. Not only will your customers love you for providing them with yet another way to save money, but your monthly revenue will increase. Mobile marketing IS THE HOTTEST trend in advertising in 2013 and will generate interest and appreciation from your customers.
---
For More Sample Videos of Mobile Marketing Campaigns
Check Out Our Videos Page!