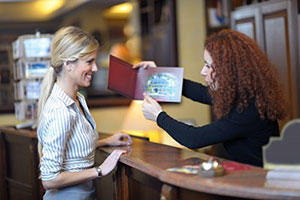 AuthoTrans understand the lodging industry has specific Interchange pricing and credit card acceptance regulations from the card associations. AuthoTrans works with our lodging clients to help them qualify for the best rates available as well as to understand important regulations including "no show" chargebacks.
AuthoTrans supports many front-desk point of sale (POS) register systems and lodging applications on stand-alone credit card terminal systems. These systems provide for check-in and check-out functions as well as the ability to handle multiple authorizations against a cardholder's credit limit during their stay.
Many times our lodging clients also operate restaurants and retail shops on the property and will require specific applications, technology and qualified Interchange pricing for these business units. Providing the correct processing service to our lodging merchants for credit, debit and check cards, and check services at the point of sale products can be customized such as, gift and loyalty card service for lodging frequent stay programs.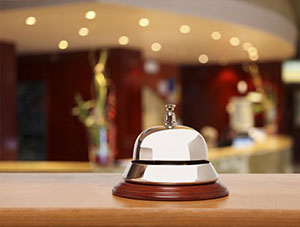 Card acceptance is only part of your business and you want a reliable payment processing service that offers a variety of connectivity methods including dial-up, DSL/cable, Internet, and wireless. From stand-alone terminals to multi-lane terminal configurations to PC software products, AuthoTrans supports the platforms you require.
Many of our merchants in the lodging Industry provide quests with online options via their website to reserve or make a payment. Our gateway answers can provide you with multiple online payment solution options.
AuthoTrans delivers secure and reliable payment acceptance solutions with a wide array of product functionality and support, competitively priced, and designed to meet your unique requirements.
For More Information on Your Lodging Merchant Account Options,
Contact Us Via Email or 1.888.488.1907